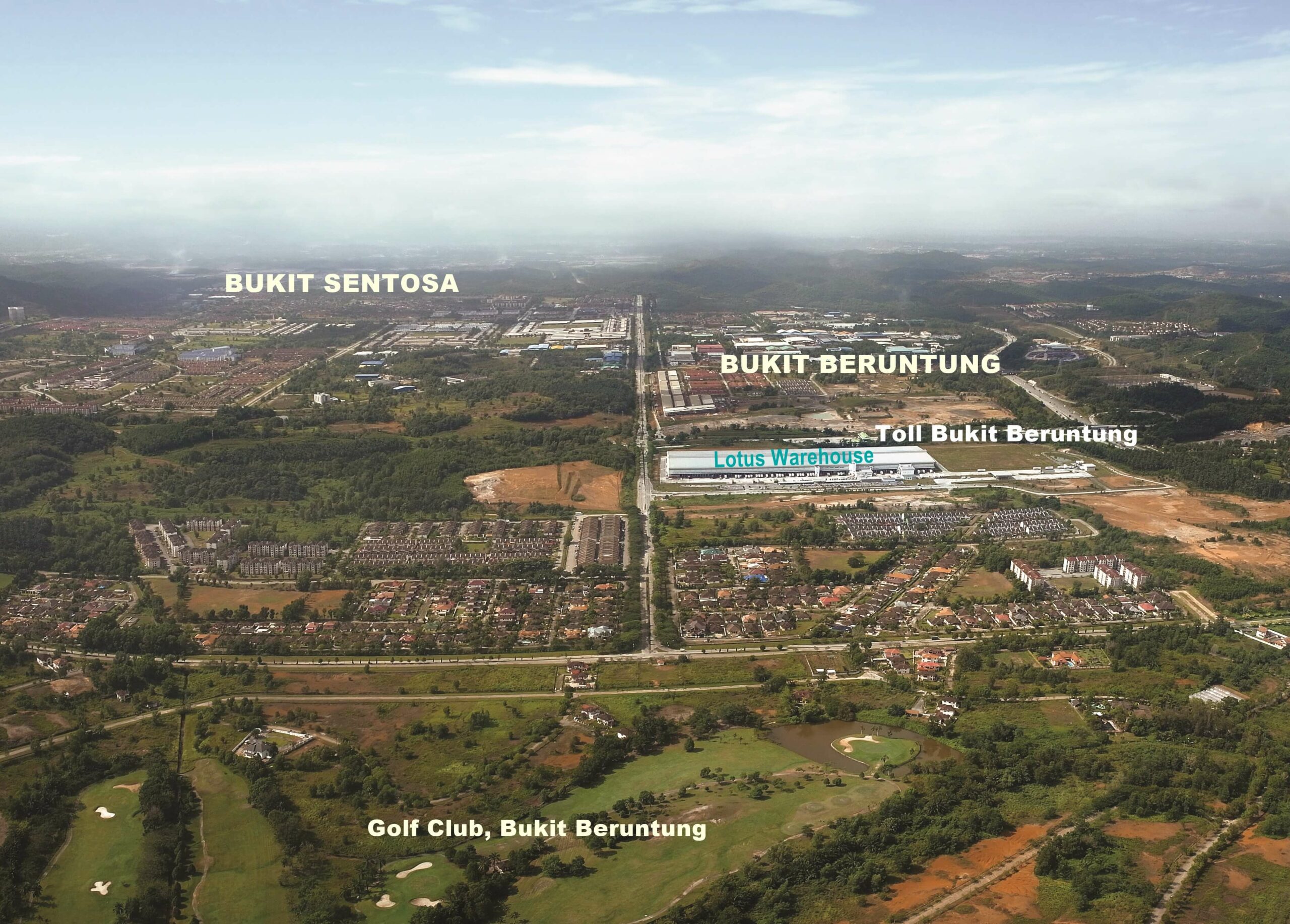 About Us
Setiatiwi Group was incorporated in 2010.  The principal activity is property development with sole purpose of developing truly affordable houses.  
We have embarked and ventured on our first project by stepped in on a piece of land which is Bukit Beruntung, Mukim Serendah, Daerah Hulu Selangor, Selangor.  In March 2012 and December 2012, the company launched the development of 92 and 48 units of 2 storey terrace houses and was successfully completed and handed over in September 2013 and October 2014.
The company continues its growth and aspiration to be a leading property developer in Klang Valley, when in 2013, the company acquired three other property development companies namely, Setiatiwi Property Sdn Bhd, Setiatiwi Development Sdn Bhd and Setiatiwi Land Sdn Bhd for the development.
As todate built and delivered on time more than 1030 units affordable homes priced with range of RM230,000 – RM480,000 to our valued customers.  Our track records have proven our ability to provide superior service to meet all the needs of our clients of the completed projects over the years.  It has created a good reputable to the company in Bukit Beruntung and Bukit Sentosa at the district of Hulu Selangor by building and delivering properties on time without comprising on quality.  
The Group's support base includes land banks of approximately 200 acres of industrial land and 50 acres of residential land, located in Bukit Beruntung and Tampin, Negeri Sembilan for future development.  The Group is also constantly on the lookout for opportunities to expand its land banks.
Todate, Setiatiwi Group has established it name as a reputable and become one of the pioneer property developers in Hulu Selangor.
Our Vision
Our vision is to be a dominant player in the development and marketing of quality and affordable residential properties, competitively priced commercial and industrial properties to our customers.  It is our aim to make the Group a model organization in property development renowned for the quality and beauty it delivers in every property developed for its customers.
Our Mission
Our mission is to deliver outstanding service, quality products and value for money to our customers, with the objective of enhancing our value to all our stakeholders.

Our Director
The Common Directors as indicated in the middle of the circle are as follows :-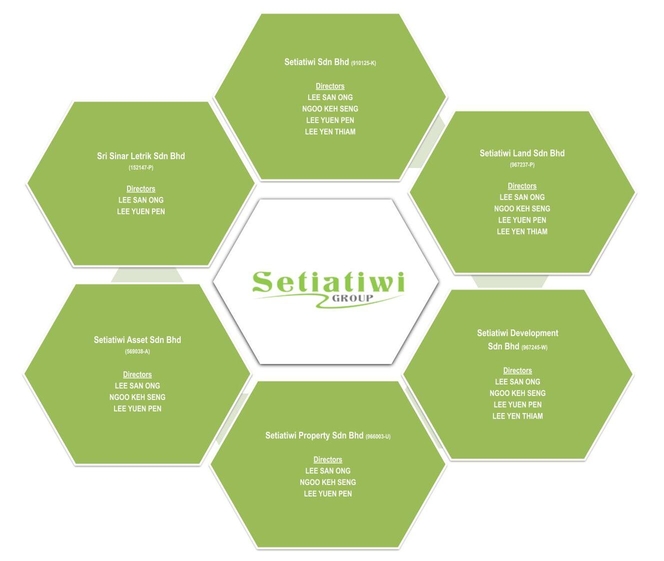 Corporate Structure
SETIATIWI GROUPS TOGETHER PERSONNEL WITH EXTENSIVE EXPERIENCES IN THE CONSTRUCTION AND BUILDING INDUSTRY
Setiatiwi Sdn Bhd, Property Sdn Bhd, Setiatiwi Development Sdn Bhd and Setiatiwi Land Sdn Bhd, the developer for Taman Tanjung, Taman Adenium and Taman Mawar consisting of more than 1030 units of double storey terrace houses in Bukit Beruntung.
Sri Sinar Letrik Sdn Bhd is a registered electrical contractor since 1977 and have completed various electrical contracts for TNB, SP Setia, Sunway Group of Companies, JKR, Telekom and University of Sains.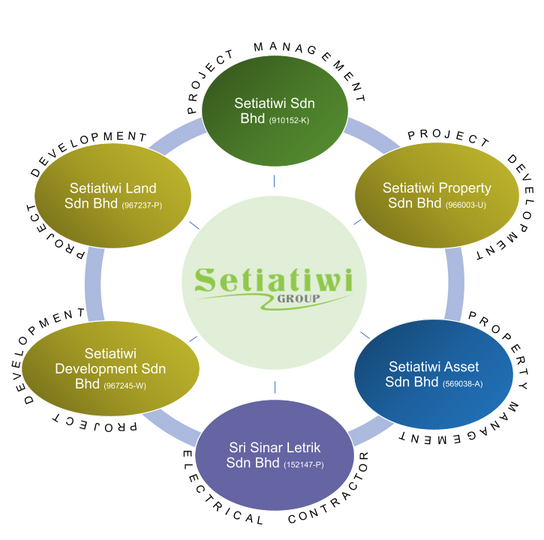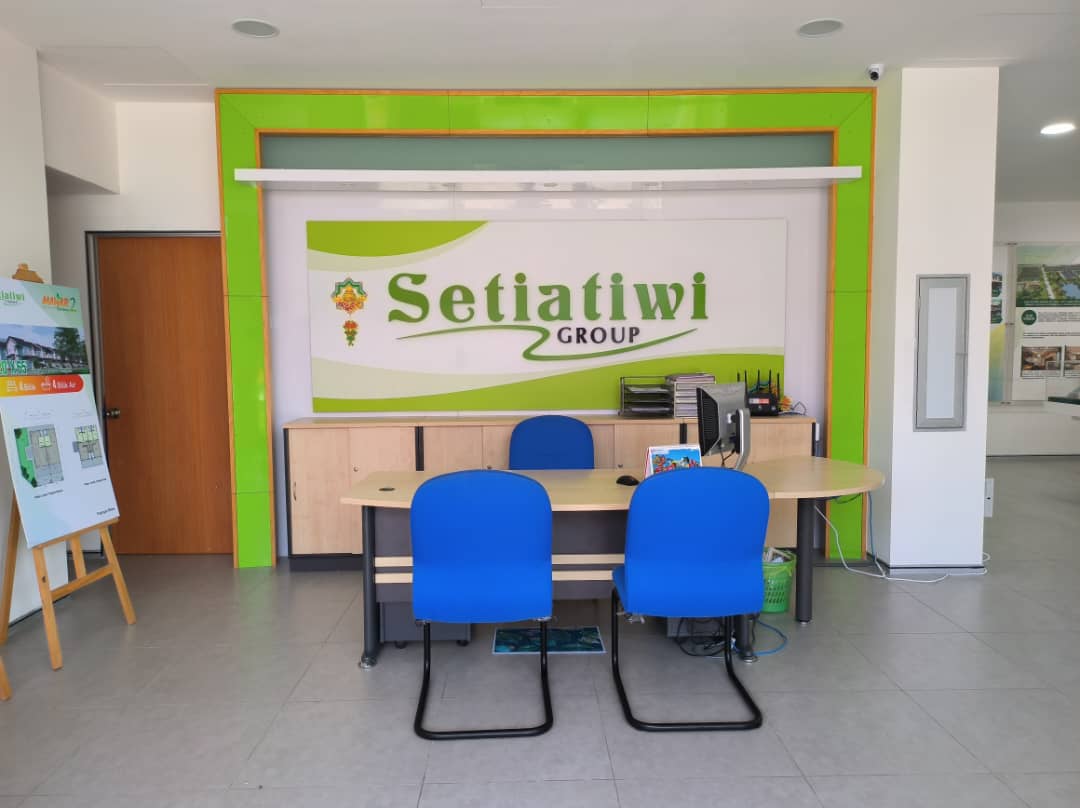 Company:

 

Setiatiwi Sdn Bhd (910125-K)
Working Hours:

 

Mon-Fri (8.30am-5.30pm)
Tel:

 

603-6138 9043 / 603-6136 2012
Email:

 

[email protected]
Sales Office:

No 1 Jalan Kantan 2B, Jalan Kantan, 48300 Bukit Beruntung, Selangor Darul Ehsan

Working Hours:

 

Mon-Fri (8.30am–5.00pm)
Sat (9.00am–5.00pm)
Sun (10.00am - 2.00pm) - 1st< & 3rd Week of the month

Tel:

 

603-6021 7796
HP: 010-231 1153 & 010-2211153